Whilst making a claim for work accident compensation, it is useful to have a checklist of areas to consider throughout the process. From the moments immediately following your accident to the time you contact a personal injury legal team, here are the top five things to consider.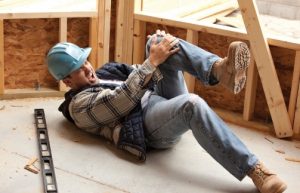 1. Have you collated all details of your accident?
If you do not require immediate medical attention, it is important to take as many details as possible at the time of your accident. Your work accident compensation claim will benefit from evidence including:
Contact details of any witnesses
Photographs of the accident site to demonstrate specific circumstances
An entry in your work accident log book; required for health and safety in workplaces of 10 or more people
2. Have you had medical attention from a professional?
If you have a severe injury, you will need to priorities medical attention above all else. If your injury is less severe, you may be able to visit your doctor's surgery or local hospital with less urgency. Either way, you should ensure you are seen by your GP or other medical professional, both for the benefit of your health and to provide evidence of your injuries. This will be required to make your work accident compensation claim.
3. Are you eligible for work accident compensation?
To check your eligibility for work accident compensation, your accident must have been someone else's fault (in the case of work injuries, this will likely be your employer). It must also have incurred injuries requiring medical attention, and have happened at some point during the past three years.
4. Do you have good legal representation?
It is important to select a legal representative with a specialist in personal injury claims in order to progress your work accident compensation. Furthermore, it is of greater benefit to find a compensation provider or personal injury lawyer able to offer expertise specifically in work injuries. This is because other accident types, including road traffic accidents and slips, trips and falls, may require different areas of knowledge. Work accidents are a niche area of personal injury claims, and you will have a better chance of success with specialist legal representation.
5. Are you aware of the wider benefits of making a claim?
Some may be nervous about making a claim for compensation, especially against their employer. It is important to bear in mind that your employer will be covered by indemnity insurance, and that it is your right to make a claim. You may have experienced:
Loss of earnings due to an inability to work, either short term or long term
Expenses such as care costs, medication and specialist treatment
Emotional distress
Life-altering injuries, such as loss of mobility through a spinal injury or difficulty with communication due to a brain injury
As well as compensating you as far as possible for the points above, the compensation process may also trigger preventative measures to ensure your colleagues are not injured under similar circumstances.