If you are looking for a new career childcare could be a great fit. The work is interesting, often fun and there is a lot of demand for experienced childcare workers. Regardless of when you search job boards you will see dozens of childcare jobs in the Wirraland that will be the case in other parts of the UK too.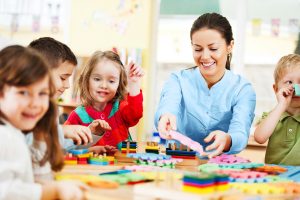 More and more families are deciding that both parents need to go out towork. Naturally, they want good childcare for their children, which is why there is strong and growing demand for workers in the sector of private childcare.
Live in Nanny
Some families still hire a live in nanny. They often do this if there is more than one child in the family or if both parents are likely to arrive home very late or spend nights away.
Part Time Live in Nanny
Other families only need a live in nanny at certain times of the year. For example, those who work in an industry where work is seasonal.
Day Nannies
Not everyone needs a live in nanny especially when children get older. For this reason, there is increasing demand for nannies who are prepared to work before and after school only. This kind of role is perfect for someone who is studying or who only wants part time work.
Event Nannies
Occasionally you can find work as an event nanny. Increasingly people are travelling with their children rather than spend extended time apart from their children. For example, if they have to attend a conference. Others hire this kind of nanny for events like weddings or sporting events. If you are happy to travel this is a great role. You normally stay in the same hotel as the family and will usually have time to explore the place you are staying in. As you can see, a career in the private childcare sector can be varied and interesting. It is a great career choice for both men and women.